NURTURING NATURAL LEARNERS
From feeling lost to confidently navigating your children's learning
If you are feeling a little clueless and wondering what else you need to teach your child to help them learn, then this course is for you.  I am going to help you navigate your children's early years so that you can see them grow into confident and competent life-long learners.
Imagine your child being able to learn what they want whenever they want to
It is not about the content, it is in the process of learning. Children are born with an innate desire to find meaning and reason behind everything around them We don't have to transform them into learners. Instead, I am going to help you work with their natural tendencies to learn, working with their brain plasticity, curiosity, and playfulness.
Discover the natural ways of helping your children learn everyday
There is no need for long list of activities for you to do with your children, only to find them being engaged for barely a few moments. I've been there and I know how exhausting that feels.
Instead, I am going to be diving deep into the 4 things that are important to help your child thrive in their early years.
Studies have found that by the age of 5, children who have strong relationships with their parents have better test scores on their intelligence. I will be discussing on how to establish a strong bond with our children in this course.
Through language, we set the foundation for their learning and development, whether it is cognitive development, mathematical skills or even Islamic values. I will be diving into how to improve the quality of interaction with our children to help them develop their linguistic abilities.
Play is really the fundamental way of children being able to develop different skills and areas effortlessly. Here, I will be diving deep into understanding what exactly is play, the different types of play and how to set the conditions to stimulate play.
Nothing is more valuable in our children's learning than the real, authentic experiences that they encounter daily. Here, I will be teaching you how to grab hold of learning opportunities from mundane routine tasks to exciting encounters.
Early Reading + Writing + Math
As bonus to this course, I will be covering on how to help our children learn these 3 academic skills without the need of worksheets or laborious planning.
This course is for parents who:
Here are reviews by some of the course members...
I joined this course to learn how to teach my 5 year old. Turned out I needed help for all 3 of my kids and for different reasons. This course was a total eye-opener for me. I am specially pleased by the delivery of theory first and then explanation of practical steps later to achieve the desired result. During the course I applied some of the tips and they proved to be success. Cant recommend this course enough to mothers of young children.
I really appreciated this course because I was looking for practical solutions and I got them! I wanted my daughter to be more autonomous by playing and also to improve our relationship through richer experiences. I learned to discuss more deeply with her, to watch her playing and be able to decode her way of playing, to read a book with her the better way, and so much other things.. And guess what? I am now writing this email while she's playing alone next to me! It wouldn't have been possible before! Alhamdoulilah it's sometimes the little things who make the difference, and this knowledge can really improve our relationships soubhanAllah. MashaAllah this sister has made a very beneficial work so I can only recommend this course to anyone with children! Thank you again for helping me to improve my daily life!!
I wanted to tell you, your videos are amazing mashaAllah tabarakAllah...I've gained so much, mashaAllah. I never knew there were different types of bonds. I'm conscious of it now and trying my best every now and then to form strong bonds..."
A great course that will equip you with all the necessary knowledge to understand your child better, and to begin teaching your child right from home! This course helped me to reflect on myself as a parent as I learn about the best ways of how children learn - such as how important having strong bonds with them is so that they can learn better with us. The two bonus modules on reading and math are so helpful too as it includes practical tips which I can apply right away with my children. Thank you so much for this course! Looking forward for more inshaaAllah! Barakallahu feek.
What is included in the course?
Unit 1: The Power of Bonds
1.1 The Effect of Strong Bonds
1.2 Understanding the Child
1.3. How to Nurture Strong Bonds
2.1 The Importance of Language
2.2 Factors to Language Development
2.3 Strategies for Daily Interaction
3.1 Understanding Play
3.2 Preserving Play
3.3 Stimulating Play at Home
Unit 4: Authentic Experiences
4.1 Authentic Experiences
4.2 The Art of Observation
4.3 Scaffolding
Bonus 1: Reading & Writing
Help your children learn how to read and write using a non-didactic and progressive approach.
Teach your children mathematical concepts by taking hold of learning opportunities from their daily experiences.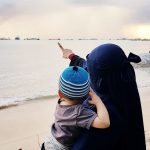 Assalamualaikum, I am Ummu Muhammad, a mother of 2. I studied early childhood studies and used to work in the sector for a few years before I became a mother. I know how difficult it is to juggle between motherhood, household duties, work, business and the list goes on. Let's face it, we don't have all the time in the world to plan and set up activities all the time. It is so easy to feel burnt out when you are trying to juggle so many things at once. If this has resonated well with you, then this course is exactly what you need. I want to help bring clarity for you so that you can help your children thrive and become brave learners. So hop on board and join me in this course!
Frequently Asked Question (FAQ)
What is Nurturing Natural Learners?
This is a self-paced audio course for parents or caregivers who would like more clarity on how to help their children in their learning.
Who is it for?
This course is for anyone who is interested in learning about how to help children below the age of 7 learn.
What is included in my purchase?
You will get access to 12 videos (of slides with audios) of the main content and 2 content bonuses, along with video transcripts, slides and printable notes. Each unit takes about less than an hour to complete.
For how long can I assess the course materials?
You will get access to the materials for as long as Ummi And Kids' Nurture platform stands.
How much is the cost of this course?
As this is a newly launched course, it is priced at $49. You may not get to purchase this course at this price again as the course materials may be updated and more materials may be added and thus, the price will eventually match its value.
What if I want a refund?
I value your satisfaction and happiness more than money. I do not wish to oppress anyone in any way. If you have completed the program, and you feel that I have not delivered, I will give you your money back. Request for refund to be made within 14 days since purchase. With that being said, I seek your honesty. If you do get value from the course, please do not ask for a refund just to save a few bucks.